Just to placate anyone who's waiting for my interview with Jenny Balfour-Paul (nearly there!), I thought denim fans preparing for a spring denim overhaul might appreciate a quick roundup of the major retail outlets in London. I'll come back to this post and update it - please feel free to email me or add comments about places I've forgotten.
Son of a Stag
is on Drapers Walk, Truman Brewery, Brick Lane; carries a decent range including Lee, Levi's etc - they now have a Union Special chainstich machine so can alter the length of your jeans and keep the right style of hem.
Union Special at Son of a Tag. Check out The Clerk, too, for more chainstitch tomfoolery
Butchers of Distinction has indeed closed down.
Beyond Retro
on Cheshire St, just off Brick Lane, sells vintage stuff. You will pretty much always find Big E and Stormrider jackets, with occasional choice 50s items, hats, old Converse, you name it.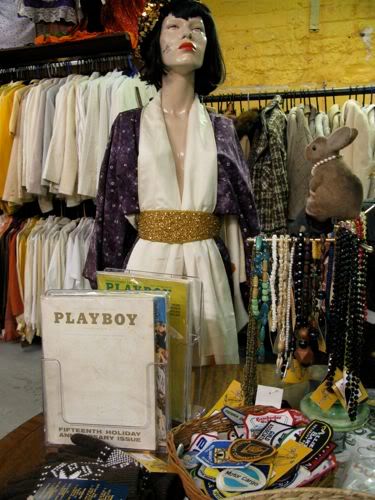 Present is
at 140 Shoreditch High St; expensive, but they sell great stuff including Studio D'Artisan, several of their own Trickers collabs, Nigel Cabourne and some lovely oiled Parkas from Millerain.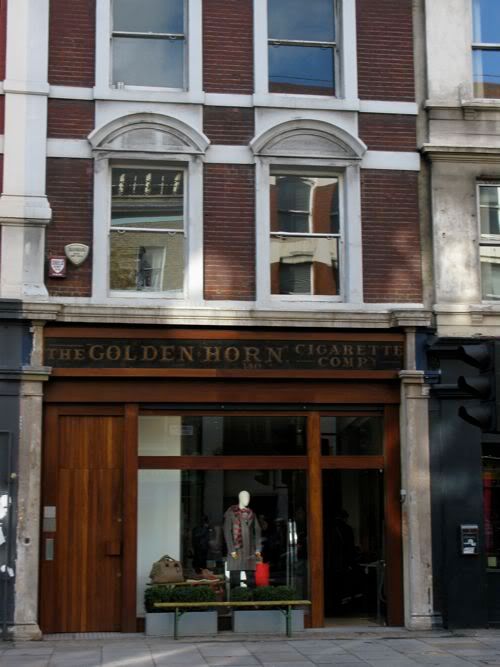 You can drop on Brick Lane, take in the market, all the above shops, the overpriced market in Spitalfields, Columbia Rd on a Sunday and finish up here for an espresso although sadly world champion Barista
Gwilym Davies
has now moved on to his own shop on Leather Lane.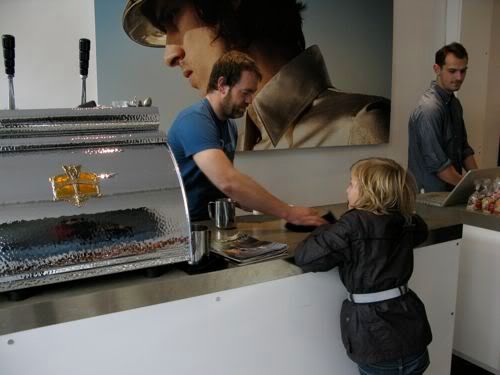 Spitalfields market
Personally, I would rather shop in Spitalfields market than pay retail at some of the bigger stores. THursday is the best day - lots of vintage clothes, as well as bric a brac and antiques. (some of the same stallholders will do Portobello on a Friday).
For denim freaks,
David White's Ragtop stall (
at the front, on the left) is a must-see. Items are reasonable prices - not a bargain, but not as pricey as, say, The Vintage Showroom.
Dover St market is worth a look; mostly overpriced fashion brands, but I did see some nice Chambray shirts in there last time I went.
You should also check out
Cinch on Newburgh St
for the full range of LVC; this is one of Levi's few remaining boutique stores, along with Buttenheim in Berlin. Althoug their LVC is £20 or so more expensive onan online, you get to try them on first; they have reasonably regular sales and if you're a regular they will look out old items - they found me some old Valencia St 201s, and I've had other choice sale itmes from them.
Don't forget the
Lee store nearby on Carnaby St;
they have the Edwin-made vintage range downstairs (again overpriced I'm afraid, but you can try them on before buying via Rakuten).
There's also
Meet Bernard,
for Nudies, Edwin at College Approach in
Greenwich, SE10.
Look out for T-shirt stall in Greenwich market run by www.departmentofworks.com - Cary, aka The Clerk, also has a vintage Union Special and offers a chainstitch service. Nearby, on Creek Road, is the Emporium - their stock is mostly vintage, but they usually have a good range of vintage reissue Lee and Blue Bell/Wrangler.
The Vintage Showroom, 14 Earlham Street, Seven Dials
A nice store, with a good selection roughly similar to David White's. The first couple of times I've been in they've been friendly, but... but not consistently so.
RRL, Mount Street, Mayfair
In recent months, I think their collections have arguably improved - lots more hunting- and military-inspired collections. And the nice staff help make up for the hefty prices. Full story
here.
American Classics on Endell St
in Covent Garden is the grandaddy of denim in London, and has carried LVC, Lee and others for a couple of decades now.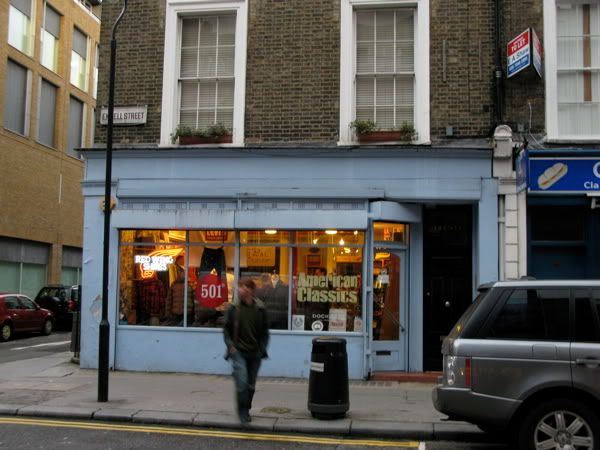 The shop has a great range including LVC, Lee, SDA and Sugar Cane, plus jackets by Filson, Belstaff and others. The quality of stock has gone up and down over the years, as has the service, but last time I popped in it looked impressive. Cav, a tallish guy, shaven-headed, knows what he's talking about.
I have also been a customer of
Interstate,
opposite, for many years. They used to do Euro Vintage Lee at bargain prices; now Lee's range is dull, but they still stock Edwin and a lot of Carhartt plus other workwear-related stuff.
Interstate
17 Endell Street
London WC2H 9BJ
020 7836 0421 Selfridges
must have changed their buyer; their range is pitiful these days.
FInally, Liberty has recently opened a denim department (March 2011).
The assistant, who was reasonably helpful, told me this was "the first department working with heritage clothing in London."
This, the basement section, has always been a bit olde-worlde. And there is of course an irony implicit in a swanky department store hosting such blue-collar clothing, with fake wear, augmented with expensive working men's ephemera.
Still, an attractive RRL range. As ever, their washes are very impressive.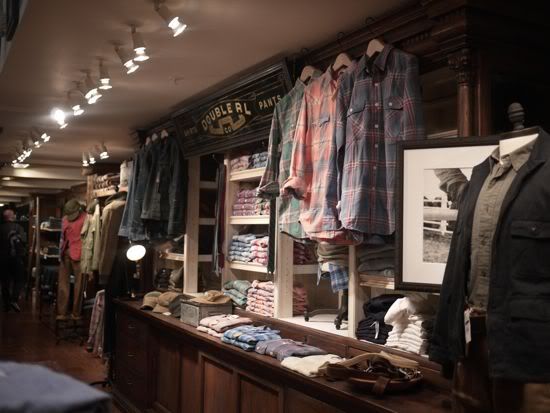 And a good range of LVC, too, altho based mostly around the Rough Rinse, without all of the good new flannels and duck items.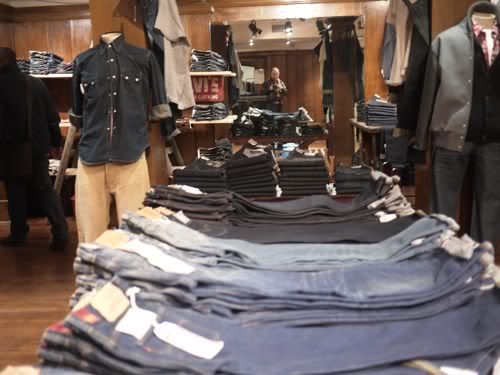 They also stock Jean Shop, a fair amount of SDA (103XX, Chore jacket, sweartshirts), PRPS and Edwin.